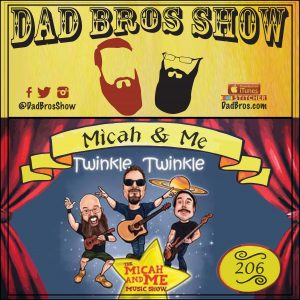 With Josh's son being a newly crowned Tae Kwon Do Black Belt, it means Josh has more classes he has to drive his kids to and new things for his son to learn.
The Dad Bros interview the kid's band Micah & Me about being At-Home Dads and musicians who's aim is entertaining small children and their parents alike. 38:00
After the second break, Jon gives an update on how his dog's neutering has impacted his behavior. The Dad Bros' local community has mail problems. Josh and Jon review some solid "Dad Jokes".
Drink of the Show (#DBSDotS): The Muse by Angry Orchard
Patreon Special thanks to: @LadyMpire, Lyle E & Beer Man Mark