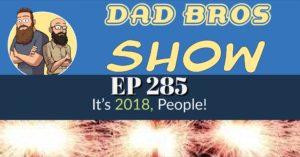 It's New Years Day and the Dad Bros reflect on the holiday season. Christmas doesn't feel as magical this year for Jon but the Stuffed Christmas Dinner was still a success. Josh feels Christmas break was a fail and searches for a good word to use when the kids are being whiny.
At-Home Dads have been promoting the idea that "Dads Don't Babysit" but a guy with a YouTube channel says they need to stop.
After the drink of the show recap, Josh and Jon discover which popular hangover cures might actually be legit.
Drink of the Show: Heavy Seas Below Decks
Visit DadBros.com and Follow the Dad Bros Show on Instagram, Facebook & Twitter
Patreon Special thanks to: @LadyMpire, Lyle E & Beer Man Mark